Tasman Peninsula
The Tasman Peninsula, to the south-east of Hobart, is the site of Australia's famous Penal Station; Port Arthur. The World Heritage Site is surrounded by amazing natural wonders, many of which you can visit on foot or by boat

A visit to the Port Arthur Historic Site is a must for any family. The amazing guides will bring the history, achievements and its tragic past to life as you make your way around the site. Near the top of the Peninsula is the Coal Mines Historic Site, where you can take a self-guided tour around the ruins.

Geologically, the Tasman Peninsula is home to a number of Tasmania's top natural wonders; such as Remarkable Cave, the Tasman Arch and Devils Kitchen. The coastal cliffs along the south side are globally significant, and you can see them up close on The Tasman Island Cruise.
There is an abundance of marine wildlife and a number of spectacular walks. You will need to spend at least a day on the Peninsula, but we recommend two. One for the Port Arthur Site, the other for the cruises and to drive around the area. If you can spend three days you will get to see everything!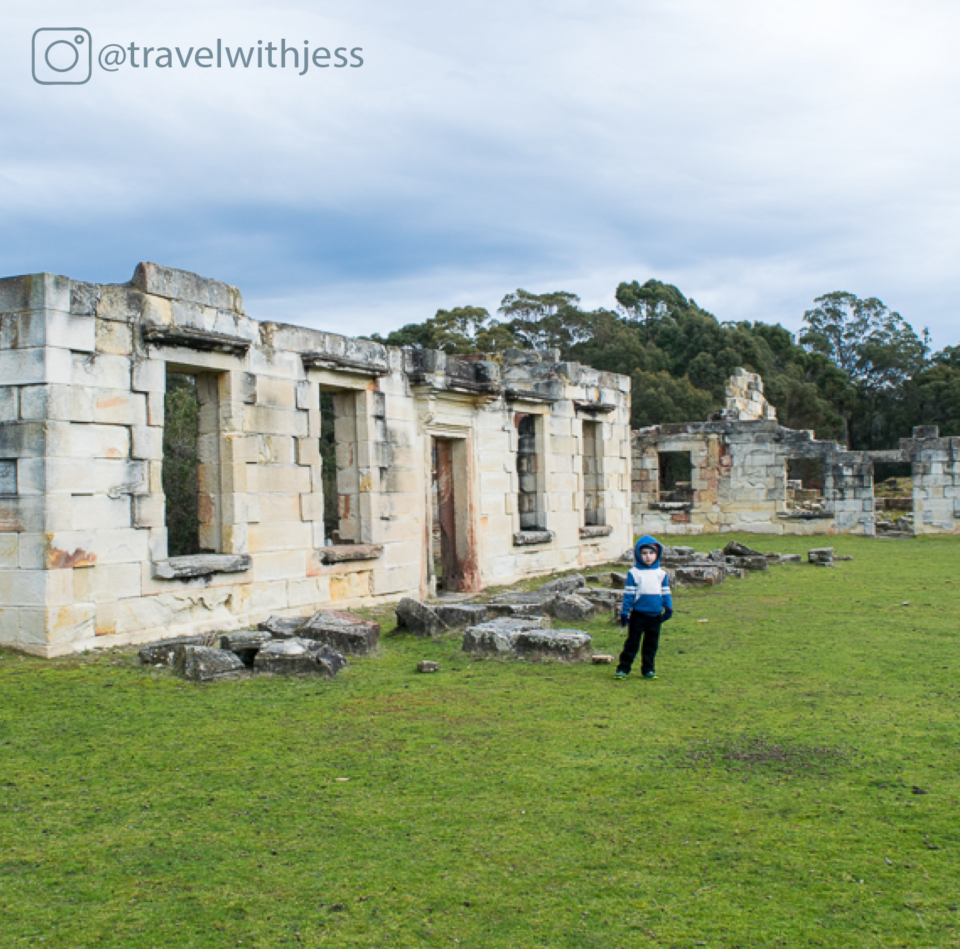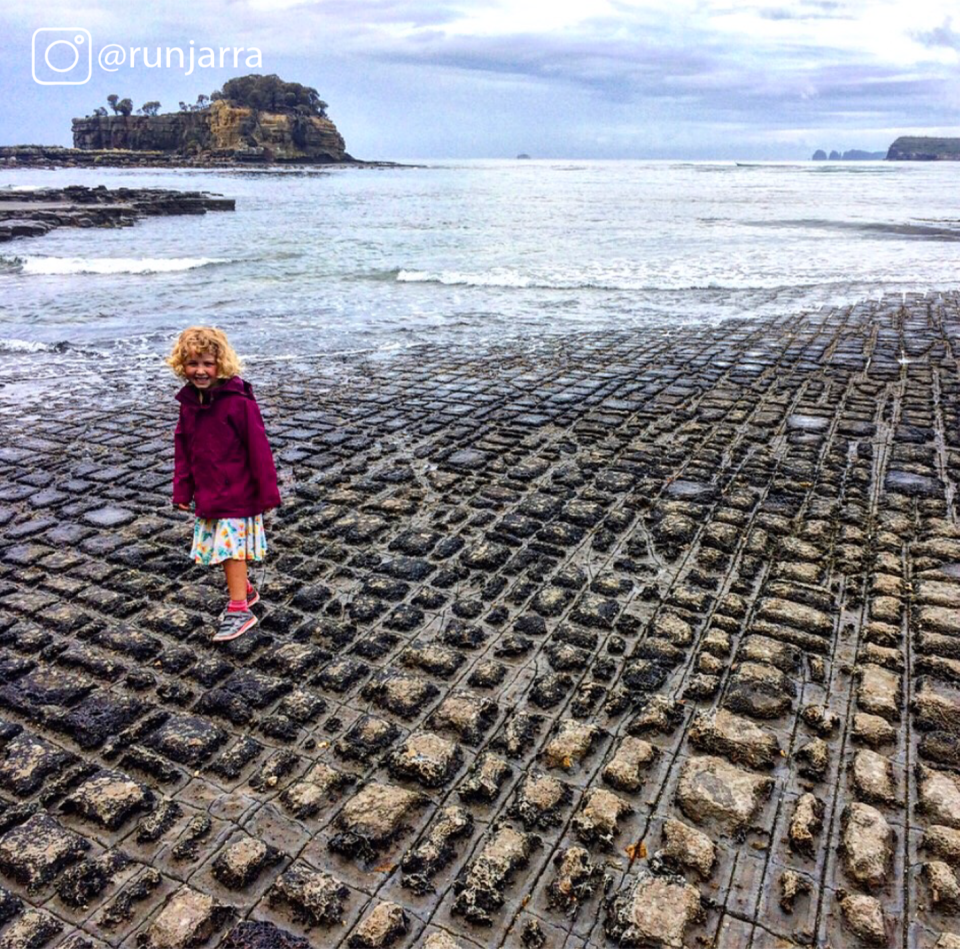 Images: Coal Mines Historic Site and Tesselated Pavement
Towns 4 Kids in this area
Whilst this is not every town or small area within the Peninsula, you'll find these places easily on a travel map. Dunalley and Nubeena are the largest towns with the most major services available.

Dunnalley
Nubeena
Port Arthur
Murdunna
Eaglehawk Neck
White Sands
Taranna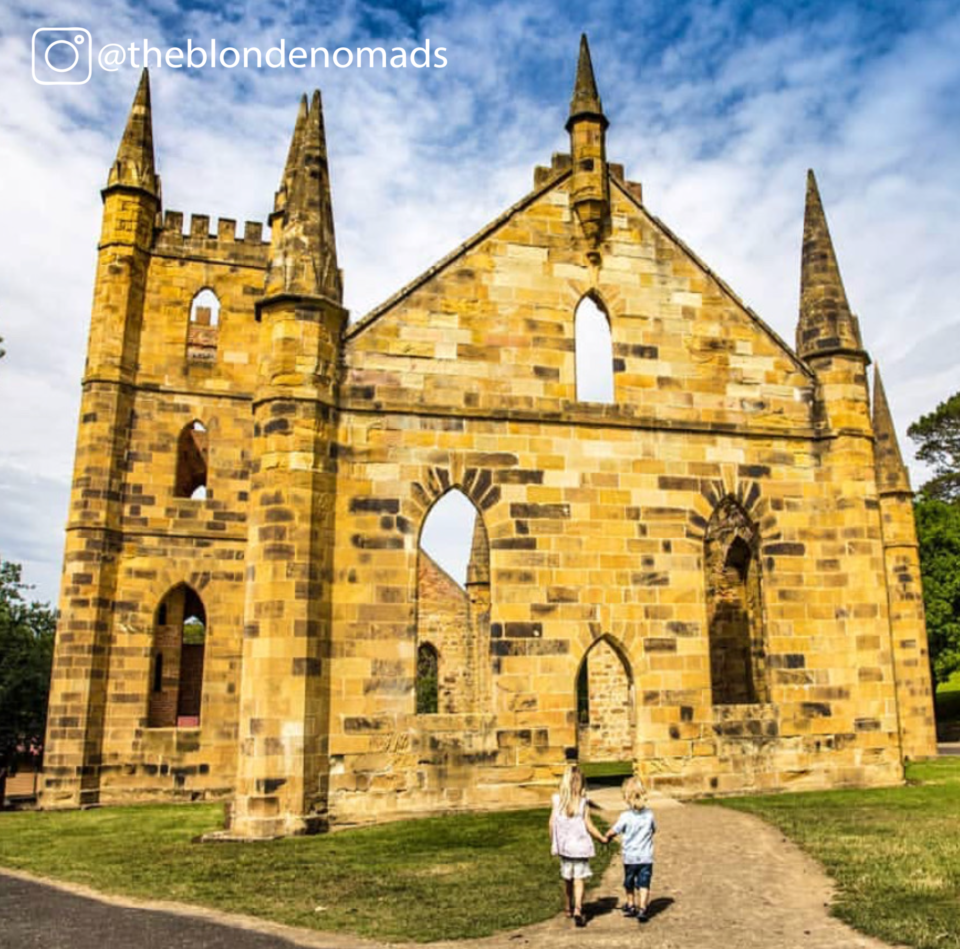 Port Arthur, By The Blonde Nomads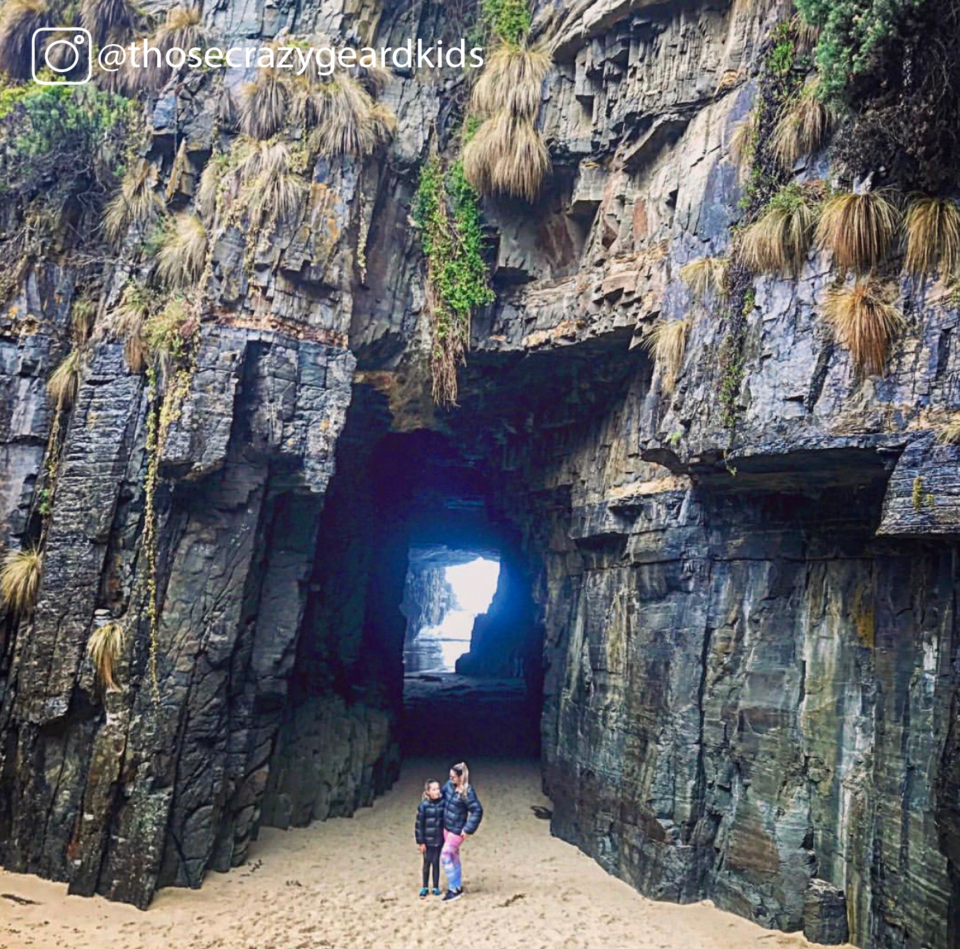 Remarkable Cave
Images: Port Arthur Historic Site and Remarkable Cave
Accommodation
Accommodation types on the Peninsula are similar to elsewhere in Tasmania. Expect to find self-contained houses, motels and cabin parks. The views are very beautiful so try to find a place to stay with a deck or access to the water.
Expect to pay between $150 up to $300 a night for a family of four. Prices are seasonal and we recommend booking in advance, particularly in peak seasons.
Camping
Caravan parks and Campgrounds for the Tasman Peninsula and Port Arthur are listed below.

Port Arthur Caravan Park
White Beach Tourist Park
Fortescue Bay Camping Ground, Tasman National Park.
Lime Bay State Reserve
Fortescue Bay is a popular camping ground in the park with 40 sites and an amenities block. Bookings are recommended by ringing (03) 6250 2433.

Walks
There are a number of walks within this region. Details below are compliments of the Tasmanian Parks and Wildlife 60 Great Short Walks.
Three Capes Track
One of Tassie's newest wilderness adventures is the Three Capes Track along the Tasman Peninsula. Suitable for kids (conditions apply), this 4-day walk offers one of the rarest opportunities to experience the rawness of Tasmania, in all its glory. Visitors of all ages will see this rugged landscape through the eyes of our early explorers and the Original Tasmanians who have called this island home for over 40,000 years. The walk fittingly starts and finishes at The Port Arthur Historic Site. Each night families will stay in comfort, able to rest up for the following day's adventures.⠀
You, a pack, and 48 kilometres of cliff-hugging wildness in Australia's far southeast. The next stop is Antarctica. Tasmania's Three Capes Track is not about getting from point A to point B. It's about the journey. Few places on Earth remain that feel so remote, so raw, so removed from the ordinary. World Heritage-listed Port Arthur Historic Site is your start and end point. A purpose-built Pennicott Wilderness Journeys' boat delivers you to the track start. Four days and three nights on a track so meticulously crafted you're free to enjoy your experience rather than watching every step. Look up, look out, look within. Walk side by side up mosaic stone steps and let nature's drama unfold. Here, your senses will be refreshed and your heart will skip a beat (regularly). Stand on nature's edge. Hear the silence and be overcome with awe. Move through shadows of tall eucalypt forest and colourful coastal heath. The Tasman Sea is your constant.
The lighter pack weights and achievable daily distances make the track a suitable introduction to overnight walking for children. The guidebook introduces stories along the track, many with an artful story seat for you to rest at. Many parents who've walked the track with children found them perfect for breaking each day's walk into shorter sections. Any bookings for children (under 18) must be accompanied by an adult. Parents wishing to walk with an infant (under 3) need to phone us to book their trip (there is a maximum of 2 infants per day)

Waterfall Bay
The stunning coastline of this region includes some of the highest sea cliffs in Australia. Waterfall Bay offers a spectacular view across the cliff-lined bay to a waterfall which, after rain, plummets straight into the sea. Vantage points that show cliffs plummeting into the sea and swirling ocean waters make this an exciting coastal walk within the Tasman National Park. 1 - 1.5 hours return (1.7km one way). Supervise children, stay within barriers, and hazardous cliffs.

Bivouac Bay
Here in the Tasman National Park, you can enjoy a coastline, remote from roads and houses without walking a long-distance or climbing steep hills. The walk leaves from the squeaky white sands of Fortescue Bay and gives you close-up views of sparkling waters and large kelp forests. You might see a seal or dolphins! About halfway along the track, you will come to Canoe Bay, where the remains of a shipwreck can be clearly seen above the waterline. Nestled in a narrow chasm between the Lanterns at Cape Hauy, two such features, the dolerite towers of the "Candlestick" and the "Totem Pole" at Cape Hauy, are able to be seen across Fortescue Bay from the track leading to Bivouac Bay. 3-hour return walk (5km one way), Supervise children, unpatrolled beach, unprotected track edges

Cape Hauy
The Cape Hauy Track leads from Fortescue Bay, just near the boat ramp. The walk passes through a variety of heath and woodland before coming to the magnificent views of steep cliffs and rock formations. The spectacular dolerite columns and cliffs at Cape Hauy are popular areas for climbing and abseiling. Sea stacks, the "Candlestick" and "Totem Pole" at Cape Hauy are used by climbers and are not, you may be pleased to know, a part of this short walk! 4-hour return walk. (4.4km one way). Supervise children, hazardous cliffs, and unprotected track edges.
Cape Raoul
Stunning coastal seascapes that include rock platforms, towering cliffs and columns, off-shore islands and swirling seas. Take your lunch, spend some time and gaze in awe at majestic views. 5-hour return walk (7km one way). Supervise children, hazardous cliffs, and unprotected track edges.

Coal Mines Historic Site
This picturesque site on the Tasman Peninsula once housed up to 600 convicts who laboured in the inky blackness of underground tunnels, chipping at coal and dragging it out on trolleys behind them. Ruins that include the penitentiary, underground cells and mine shaft remain from this brutal past. Allow 1-2 hours or longer to take in the interpretation panels that tell the story of the site's history. (1km one way). Supervise children, historic sites, stay within barriers, deep shafts, and building ruins.
Eating Out
The Tasman Peninsula is seafood heaven. Oysters, Salmon, Trout. It has it all. There are a lot of great cafes and local pubs that serve amazing fresh seafood and other delicious meals, including kids' menus. If you are self-catering, be sure to stock up in Sorell on your way to the Peninsula, or at the IGA in Nubeena
Activities
Be sure to pack a raincoat and good walking shoes, a backpack and a refillable drink bottle. You'll also need a good hat and sunscreen. Most of the activities on the Peninsula involve walking at some point. Here are our top family picks:
Port Arthur Historic Site
The World Heritage-listed Port Arthur Historic Site is one of Australia's most important examples of our colonial history. The area originally started as a timber colony but is best known for being a penal colony.⠀Today, explore Port Arthur on foot, visiting the many original buildings that once buzzed with convict activity, experiencing first how hard life was during the peak Transportation period. The site offers guided tours, plays, workshops, cruises and ghost tours at night.
Isle of the Dead Cruise
A cruise to the Isle of the Dead is a must, as is a visit to Point Puer where the young ones in the family can experience what it was like to be a convicted child, or even a child living in Tasmania in the early 1800s. Cruises depart daily and tickets can be bought from the Port Arthur Visitor Center on-site.
Eaglehawk Neck

Eaglehawk Neck joins the Forester Peninsula near Dunnally and the Tasman Peninsula. During the times of Port Arthur, this narrow strip of land which is less than 100 metres wide, had a line of savage dogs chained up, to prevent convicts from escaping.

Tasman Island Cruises
An unforgettable three-hour wilderness cruises along the spectacular coastline between Port Arthur and Eaglehawk Neck, travelling beneath the highest vertical sea cliffs in the Southern Hemisphere at Cape Pillar, exploring waterfalls, rock formations, archways and deep-sea caves. At any time of year, you're likely to see the feeding frenzy of diving gannets, albatross and sea eagles wheeling on the wind, cliff-nesting cormorants and peregrine falcons, or a pod of playful dolphins surfing the bow wave of the boat.
Port Arthur Lavender

Port Arthur Lavender is nestled within seven hectares (18 acres) of lavender, rainforest and lakes. Overlooking the ocean at Long Bay, Port Arthur Lavender's visitor centre and café showcase millennia-old uses of this fragrant flower alongside modern cuisine and a fully functioning essential oil distillery. Stroll around the lavender trail or take in the ocean views while enjoying fresh Tasmanian produce in the lavender-inspired café.
Federation Chocolate Factory

Federation Chocolate Factory, at Taranna, uses secret recipes which have been developed over a number of years and have proved to be popular with the public. Currently, there is a list of 25 flavours made by using a range of top-quality ingredients and flavourings carefully selected and sourced Australia-wide.
Sorell Fruit Farm

Sorell Fruit Farm has a variety of products available, from liqueurs, and vinegar to fruit. A lot of varieties are available to pick yourself, such as apples, apricots, berries, cherries and peaches. There is also an onsite cafe.
Tasmanian Devil Unzoo

Tasmanian Devil Unzoo is a four-in-one wildlife nature experience that combines up-close animal encounters, wildlife adventures, a Tasmanian native garden and original art. Tasmanian Devil Unzoo is the world's first intentional Unzoo—a revolutionary project to create a model wildlife and nature experience of the future.
Coal Mines Historic Site
The Coal Mines Historic Site was Tasmania's first operational mine, established as a much-needed local source of coal, but also as a place of punishment for the 'worst class' of convicts. With many walks, explore the settlement ruins which once included stone prisoners' barracks and punishment cells, a chapel, bakehouse and store as well as quarters for the commanding officer, surgeon and soldiers. The Site is open every day, entry is free and no bookings are necessary.
Playgrounds
You most likely won't need to spend much time at the playground when visiting this region, as there are so many free activities to do.
Should you need to take the kids to the park, you can find:
Jackson Park, Murdunna
Judd Park, Nubeena
What you should know
WiFi/Mobile Reception
The Peninsula is good for service. Some spots have poor signal, the closer you are to the south. You can get all major networks and most major accommodation properties and eateries have internet, some with WiFi hot spots.
Petrol Stations
It pays to fill up before you leave Sorell or Hobart if possible. You can find petrol stations at:
Port Arthur General Store
Nubeena
Dunnally
ATMs
Very few on the peninsula itself, so we recommend getting cash out at Sorell or Dunalley.
You can find Redi-Tellers at Port Arthur and Nubeena.

Public Toilets
You can find a Toilet in the following places:
Judd Park, Ivan Street Nubeena
Gourley Road, Taranna
White Beach Road, White Beach
Sloping Main, Gwandalan Road. Open 24 hours.
Pirates Bay Nature Recreation Area - Blowhole. Arthur Highway, Eaglehawk Neck. Open 24 hours
Roaring Beach,741 Roaring Beach Road. Nubeena, Open 24 hours.
The Australian Government has a fantastic website called The National Public Toilet Map. It's fantastic. All you have to do is type in your location and it provides a map, address, facilities available and open times. Save it to your safari browser on your mobile.

Feeding/Changing Facilities
The Australian Breastfeeding Association has compiled a list of Babycare rooms around the state. There are none listed for the Tasman Peninsula but that is not to say there aren't any. Your best and safest option is to have everything in an accessible place in the car and change on the front seat. Use a wrap to place over yourself and the baby to feed with, in order to stop sunlight or distractions to your babe. Our girls refused to feed in the car without being covered up!
Travel
The Tassielink Coach runs six days a week to Port Arthur from Hobart during Tasmanian school terms and four days a week during Tasmanian school holidays.
The majority of tours provide transport to and from their destinations, such as Tasman Island Cruises.
The Port Arthur Historic Site has buggies to assist those with mobility issues, and there are a number of cruise options out of the historic site that can provide a relaxed, less physical experience.
Travel Times
To get to the Peninsula from Hobart take the A3 Tasman Highway then onto the A9 Arthur Highway. The drive will take around 1.5 hours to get to Port Arthur.

The following times are approximate. Traffic, speed and stops along the way can impact the time it takes to get from A to B.
Hobart to Port Arthur - 1 hour 20 minutes, 95 km.
Port Arthur to Coles Bay - 3 hours, 215 km.
Eaglehawk Neck to Port Arthur Historic Site - 20 minutes, 19 km.
Port Arthur Historic Site to Coal Mines Historic Site - 30 minutes, 28 km.
RV Dump Points
Caravan Parks Tasmania has compiled a list of recommended green, environmentally friendly locations in order to protect Tasmania's environment.
Nubeena Dump Point
Port Arthur Caravan and Cabin Park
Sorell Council Depot
Should you have a new suggestion, please email us at enquiries@tassie4kids.com.