The East Coast
No matter where you base your family on the East Coast, you'll find adventure, beauty and delicious food (and wine!). The weather is calmer than in other parts of Tasmania and we often head there when we need to unwind and spend some quality time with each other. It's such a relaxed culture and all along the coast, you'll find local produce, seafood and amazing vineyards to complement.
Whilst we love to relax, our kids have endless energy! There are loads of great and unique activities for kids of all ages, and it's the perfect destination for camping or exploring on foot. We love the wildlife, too. Wallabies everywhere, Sea Eagles, Dolphins and Whales. You'll find loads of marine life and a number of fantastic wildlife encounters, too!
The East features a number of decent size towns, two being Bicheno and St Helens. The Bay of Fires, one of Lonely Planet's top 10 destinations in the world is just north of St Helens. The Surfs up at Scamander, with Coles Bay to the south next to Freycinet National Park, home to Wineglass Bay.
Head inland a short distance and you'll find delicious pancakes at St Marys, and you'll leave the coast for dry eucalyptus forests, once home to tin and gold miners and timber cutters. A number of small towns are littered throughout the mountains, many with great history rooms and local museums.
You'll also find Orford, Triabunna and Swansea; stunning coastal areas with secluded beaches and a range of activities. Triabunna is the port for the ferry to Maria Island.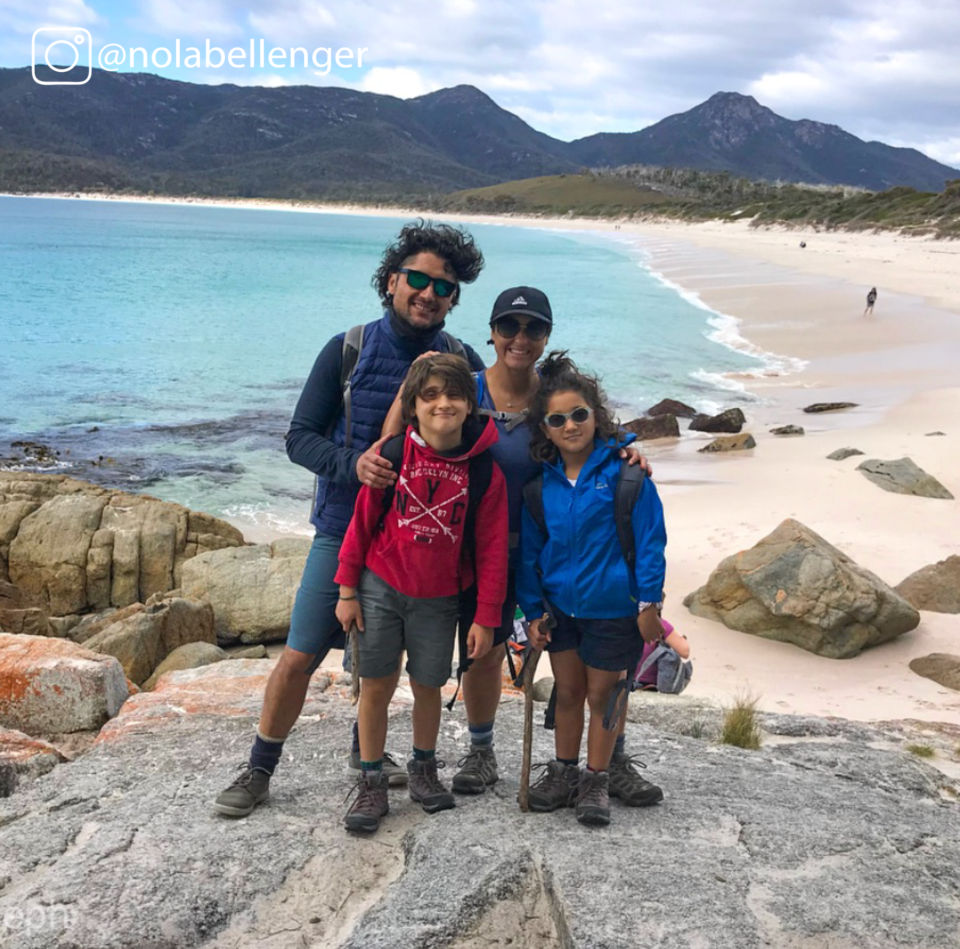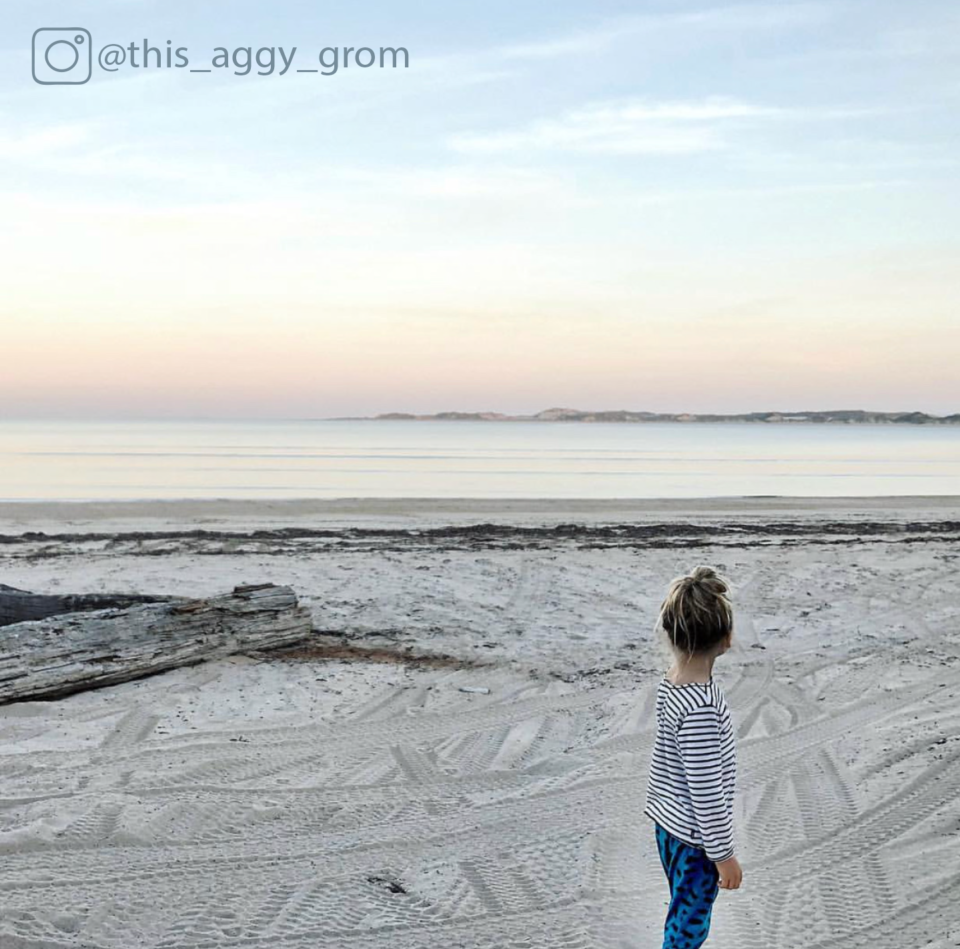 Images: Wineglass Bay and coastal sunset.
Towns 4 Kids Within This Region
Whilst this is not every town or small area along the East Coast, you'll find these places easily on a travel map. St Helens, Bicheno, Swansea and Orford are the largest towns with the most major services available.
Bicheno
Binalong Bay
Coles Bay
Orford
Scamander
St Helens
St Marys
Swansea
Triabunna / Maria Island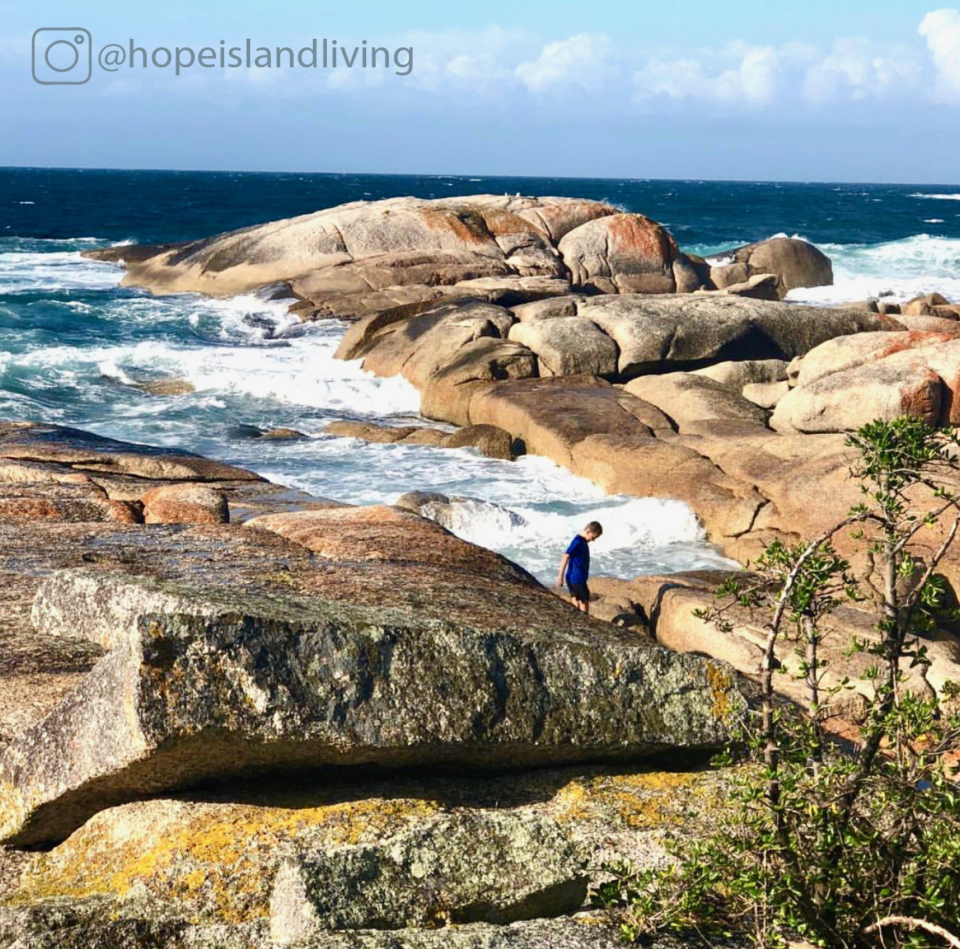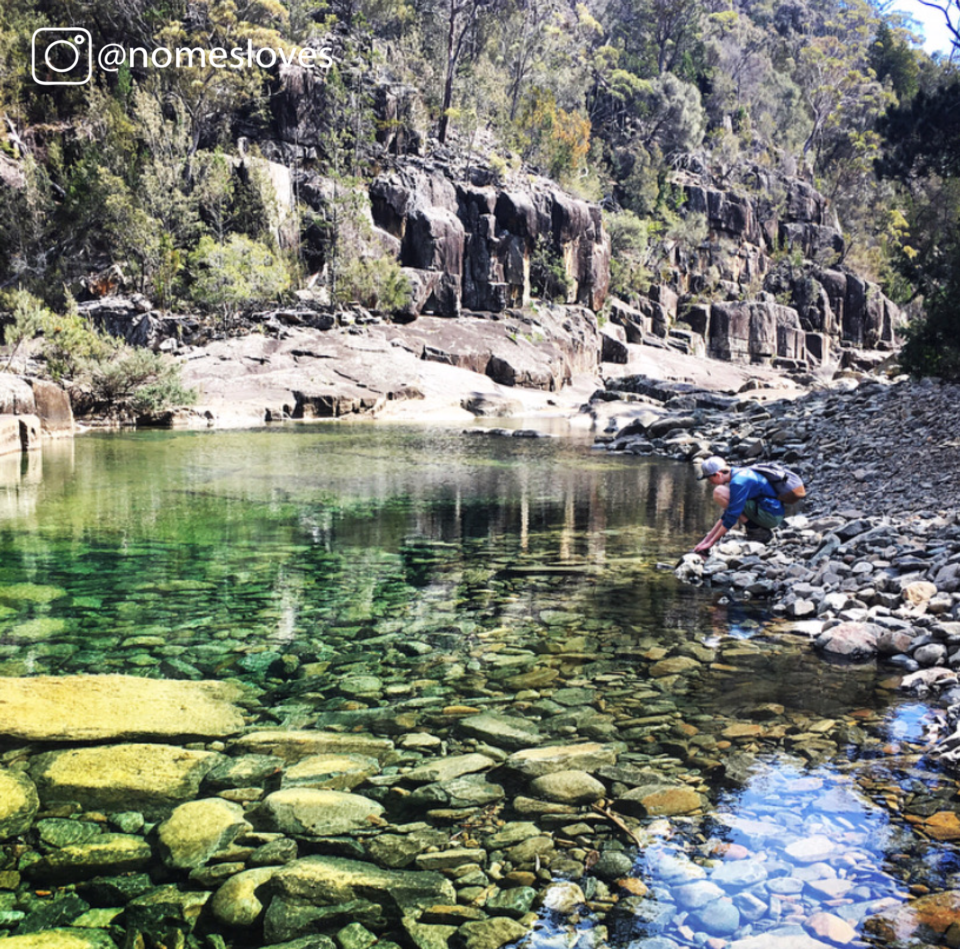 Images: Bicheno, and a waterhole within the Douglas Aspley National Park
Accommodation
A huge variety of accommodation options to suit every family's budget. Some of Tasmania's best caravan and cabin parks are found along the coast and if you're after something a little more upmarket, there are some fabulous and very spacious beach houses and luxury lodges within and nearby Freycinet National Park. Prices start off around $85 per night and go up to $800+.
Family Tips: If you plan on exploring the Bay of Fires and the far northeast, base yourself at St Helen's. If you want wildlife, seafood and Wineglass Bay, either Bicheno or Coles Bay are great locations. If you're planning an adventure to Maria Island base yourself in Orford or Triabunna.
Camping
There are great caravan parks along this coastline, and if that is the type of accommodation your family is seeking, you won't be disappointed with their locations:

Hillcrest Tourist Park St Helens
St Helens BIG4 Holiday Park
Friendly Beaches camping area (bush camping)
Bicheno East Coast Holiday Park
Bicheno Cabin Park
Bicheno Caravan Park
Seaview Holiday Park Bicheno
Iluka Holiday Centre/BIG4 Iluka Freycinet Holiday Park - Coles Bay
River and Rocks Campground, Coles Bay
Swansea Holiday Park
Mayfield Bay Conservation/Camping Area
Gum leaves Bush Holidays
Triabunna Caravan Park
Maria Island Campground
Walks
There are a number of walks within this region. Details below are compliments of the Tasmanian Parks and Wildlife 60 Great Short Walks.
Apsley River Waterhole and Gorge - Bicheno
This walk crosses the Apsley River at the waterhole and then takes you away from the river on a walk through the dry, open forest before descending back to the river at the Apsley Gorge. 2-3 hour return (2.8km one way)Supervise children, slippery surfaces, and flowing waters.
Friendly Beaches, St Helens
This track is just 10m long and lands you on a long white sandy beach. From here you can explore for minutes or hours in either direction. Supervise children, unpatrolled beaches, swimming is not recommended
Cape Tourville
With stupendous coastal views of the Freycinet National Park, this very easy walk provides a great alternative for those who don't feel inclined to tackle the steep hill on the Wineglass Bay lookout walk. 20-minute circuit walk (600m circuit). Supervise children, hazardous cliffs, stay within barriers
Wineglass Bay Lookout

The crystal clear waters and white sandy beach of Wineglass Bay are a tremendous sight. This is a steep uphill walk on a rocky, well-constructed track within the Freycinet National Park. 1 - 1.5 hours return (1.5 km each way). Supervise children, hazardous cliffs, stay within barriers, and steep tracks – not suitable for those with health issues or restricted mobility.
Loon.tite.ter.mair.re.le.hoin.er, Swansea
Right in the heart of Swansea is a walk that offers stunning coastal scenery. Named after the local band of Aboriginal people, this track takes you from Waterloo Beach to Shouten Beach. 40 - 60 minute return - return by the same route or circuit return via footpath route. (2.3 km circuit). Supervise children, unpatrolled beaches, unprotected track edges
Painted Cliffs, Maria Island
This walk is on Maria Island and can be enjoyed as part of a day or overnight visit to the island. The Painted Cliffs are best visited at or around low tide to allow safe access around the rock platform adjacent to the cliffs. Visitors can return via the Oast House where hop kilns were built sometime before 1845. 2 hours return, 4.4 km one way. Supervise children, unpatrolled beaches, unprotected edges at cliffs
Fossil Cliffs
Along the way to Fossil Cliffs, you will pass many reminders of the rich cultural heritage of Maria Island. The cliff exposure in the Fossil Bay area is recognised as the best example of lower Permian strata in Tasmania, if not the world.5 – 2 hours return, 4.5 km circuit. Supervise children, hazardous cliffs, and unprotected track edges.
Eating Out
If you love seafood you will be in heaven - the freshest oysters, scallops, crayfish and deep-sea fish are at your fingertips. Bicheno has a great seafood place down by the water that sells direct to the public. St Helens is a fishing town, so you'll find a huge range of fish on the menus and there is also a great spot by the water that sells direct to the public if your kids are the restaurant kind!
If you are travelling in a caravan or planning on self-catering, St Helens and Swansea offer the largest supermarkets. Bicheno comes in a close third. With the abundance of fresh seafood make the most of fresh fish and salads, particularly in the warmer months!
Most towns have a local hotel with meals. Both Bicheno and St Helens are yet to let us down, and Coles bay has some wonderful restaurants; two being at Freycinet Lodge right under the Hazards Mountains. You can have a meal there and look out into Great Oyster Bay; it's stunning and suitable for kids.
You'll find wineries galore through the east, many with great onsite cafes and local produce to take home. If you plan to use campfires or gas BBQs be sure to check with the local fire authority. On the East Coast, summer often has total fire bans.
Activities
The East has some of the world's most beautiful beaches and the friendliest wildlife! We often head through to St Helen's and head south along the coast from there. Freycinet is a special spot of ours and we tend to stay at Bicheno when exploring the region. Here are our top recommendations for activities:
Bay of Fires National Park.
This NP stretches over 50 kilometres from Binalong Bay in the south to Eddystone Point in the north and was named by Lonely Planet as the hottest travel destination in the world! The beaches are amazing, with many little coves and bays perfect for swimming. There are tours available as well, but more suitable for older children.
East Coast Nature World, Bicheno
150 acres of natural parkland and lagoons. From the moment you walk in the main door, the wildlife is at your feet. Features include a bird aviary, Tasmanian Devil enclosure, Wombats, Tiger Snakes, Possums, and many other Tasmanian species. They offer Devil shows and play a large part in preserving our native species through breeding programs, and contribute to the Save The Tasmanian Devil Program. Ask the staff about their two Eastern Quolls that were involved in the 'supermarket meat mystery', they can be very sneaky. Nature World also has a cafe and souvenir shop. Check out their website here.
Bicheno Blow Hole.
Located on the waterfront, a short walk from the centre of town. Water and air pressure build-up under the giant rock, pushing the water out through a tiny hole. The bigger the swell, the greater the blast! A great place to come and eat lunch, or visit before going on a Penguin tour.
Bicheno Penguin Tours.
The best way to see Little Penguins up close is in the twilight. Tours are held most of the year.
Friendly Beaches, Coles Bay
An all-time favourite camping spot of ours. The beach spans along the coast and is part of the Freycinet National Park. A great pit stop for families, kids can get out and run around, swim in the summer or simply beech comb for hours. A very beautiful spot.
Freycinet National Park.
Freycinet National Park offers a wide variety of activities. Most popular is the walk over to Wineglass Bay. The walk includes a lot of easy climbing, so not ideal for tiny legs. If you have a baby carrier it would be easily done. Cape Tourville walk near Freycinet Loge is perfect for young ones, with magnificent views overlooking the ocean. Wildlife is abundant, sea eagles are often seen soaring above. If your kids are of age we highly recommend a kayak around the bay.
All4Adventure Quad Bike Tours, Coles Bay
This is AMAZING! The quad bikes cater for individual riders as well as families, with 3-seater Polaris Rangers, (2 passengers). It's the perfect way to get off the beaten track and discover some of Freycinet's lesser-known beauty spots – plus it's great fun. The beaches they take you to are private and they also have some snacks included on the trip!
Freycinet Adventures Kayaking, Coles Bay
Kids as young as two can head out for a paddle, but they will need to be able to sit still for two to three hours. Their trips start in Coles Bay and head over towards the famous Freycinet mountains and coastline. Their Instagram pages boast visits from dolphins and seals, and they include stopovers at private beaches and bays. A trip we have done and it was wonderful. Click here for more.
Spikey Bridge, Swansea
Built by convicts in 1843, the bridge is just off the main highway heading south from Freycinet, 7.5 km out of Swansea. When built, convicts did not use mortar or cement and laid the field stones vertically, creating 'spikes'; which are claimed to keep cattle from falling over the side. There are also the remains of the Governor's cottage on the hill overlooking the unusual bridge. We tried to find the cottage but had no luck!
Maria Island National Park
Accessible only by ferry, Maria Island contains the most intact example of a convict probation station in Australia. There are a number of short walks to explore the buildings and ruins of Darlington – a ghost town with a convict and industrial past. Fossil Cliffs provides a fascinating close-up look at the many ancient creatures immortalised as fossils in the rocks and The Painted Cliffs at Hopground Beach are beautifully patterned sandstone shaped by the mineral-rich water and wind. Wildlife is abundant, with a number of Tasmanian Devils released onto the Island to protect the species from the Devil Facial Tumor.

Playgrounds
Top playgrounds for the East Coast:

Bridge Street Park, Esplanade, Swansea
Harold Street Playground, Harold Street, Coles Bay
Scamander Playground, Scamander Ave (near corner of Bridge Esplanade) Scamander
Swansea Beach, Tasman Highway, Swansea
St. Helens Marina Playground, Marina Parade, Saint Helens
Foreshore Playground St Helens
Lions Park Nature Playground, Tasman Hwy Saint Helens
Village Green Playground, Main Road Binalong Bay
Stieglitz Playground, St Helens Point Rd, Stieglitz
Beaumaris Playground, Beaumaris Av, Beaumaris
Scamander River Mouth Playground, Dune Street Scamander
Community Centre Playground, James Street Falmouth
Four Mile Creek Playground, Four Mile Creek Rd, Four Mile Creek
Library Park Playground, Main Street St Marys
Cornwall Park Playground, Alexander Street Cornwall
Mathinnna Recreation Playground, High Street Mathinna
Check out Playground Finder for a list of spots to take the kids. This website includes a location map, and details if there are toilets, BBQs, if it's fenced, has shade, car parking or is near any other kid-friendly activities.

What you should know
WiFi/Mobile Reception
The East Coast is a WiFi-free hot spot. Free WiFi is available in eight regions along Tasmania's east coast. In these locations, the first hour is free, with additional unlimited access to selected websites. These places offer WiFi:
Buckland Road House, Tasman Hwy, Buckland
Gateway Café & Restaurant, Charles St, Orford
Triabunna Visitor Information Centre, Charles St, Triabunna
Swansea Visitor Information Centre, Noyes St, Swansea
Pasini's Café, Wine Bar & Deli, Burgess Street, Bicheno
Freycinet Adventures, Freycinet Drive, Coles Bay
St Marys Hotel, Main St, St Marys
St Helens Wharf Area Precinct, Georges Bay Esplanade, St Helens
Within the National Parks, there are dead zones, and when travelling along the coast there are spots where service is limited. Telstra is the strongest network provider, however, most major networks work along the coast.
Petrol Stations
All major petrol companies are in Launceston. Fuel is expensive when compared to the mainland, so the purchase of an RACT United card can save you 6 cents per litre. Coles and Woolworths also offer their 4 cents off a litre through shopper dockets.
ATMs
All major ATMs are available, with some smaller bank branch stores in smaller towns.
Public Toilets
The Australian Government has a fantastic website called The National Public Toilet Map. It's fantastic. All you have to do is type in your location and it provides a map, address, facilities available and open times. Save it to your safari browser on your mobile. Right now.
Feeding/Changing Facilities
The Australian Breastfeeding Association has compiled a list of Babycare rooms around the state. It does not, unfortunate list any for the East Coast. There are a lot of places available in each main town, and with the coast's strong clean image, the majority of public toilet change areas are clean.
As for feeding - the coast offers one of the best views to look at! Find a quiet spot, with a great view and sit back and relax!
Travel
The main public transport along the coast is Calows Coaches. They run daily from St Helens to Coles Bay.
Alternatively, there is the Tassielink Bus from Hobart or Launceston.
St Helens have taxis, as does Swansea.
Most families have hired cars, and even though there are a lot of gravel roads throughout the East Coast, they generally are in good condition due to being the main thoroughfares to beaches and national parks.
Travel Times
The Following are times travelling from Coles Bay to:

Launceston - 167 km (2 hours), via Swansea and Campbeltown
Hobart - 185 km (2 hours 30 min) via Orford and Sorell
ST Helens - 110 km (1 hour 30 min), via Bicheno and Scamander
Bicheno - 35 km (25 min) direct
Port Arthur - 200 km (3 hours), via Orford and Spring Beach
RV Dump Points
Caravan Parks Tasmania has compiled a list of recommend green, environmentally friendly locations in order to protect Tasmania's environment. The closest points to the North East are the following:
St Helens Caravan Park
St Helens Sports Ground
Bicheno Tasmania
Swansea Duck Park
Triabunna Visitor Information Centre
Should any of these be unsuitable, incorrect, or you simply have a new suggestion, please email us at enquiries@tassie4kids.com.