Cradle Country
One of Tasmania's most iconic regions; a family trip through Cradle Country will not disappoint. With so much to do on the route and at Cradle Mountain itself, we suggest you plan at least three days to travel through the area.
From Launceston, stop in at the Town of Murals. Also known as Sheffield, you'll be captivated by stunning Mt Roland in the background. Not far away is Tasmazia; the Village of Lower Crackpot. This place will leave you with sore bellies from laughing, getting lost in the mazes and finding your way out always creates fun and special memories. From Devonport, the kids will enjoy the quirky town of Wilmot and its eclectic letterboxes that line the roadside.

If you have ventured in from Deloraine and plan to stop in at Mole Creek, be sure to visit the Caves. With a number of tours available the kids will love the glow worms and prehistoric cave spider. If spiders or caverns aren't your things call into Trowunna and visit the Tasmania Devils.
We love how the landscape changes the closer you get to Cradle Mountain. The transition from eucalyptus forest to alpine wilderness is breathtakingly beautiful. Take your time and enjoy this part of the drive. Keep an eye out for wombats, too! The list is endless for what we can do in the region. The wildlife is right at your feet and the educational experiences are second to none. A child's playground, this region cannot be left off your itinerary!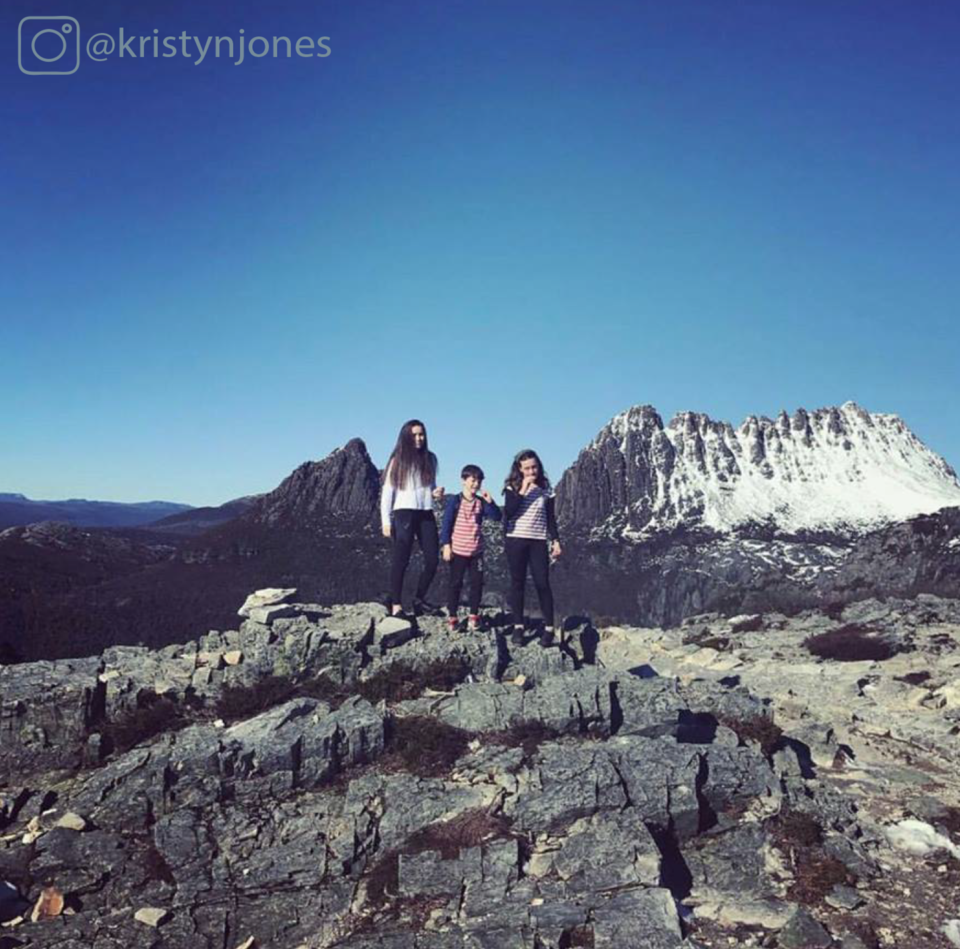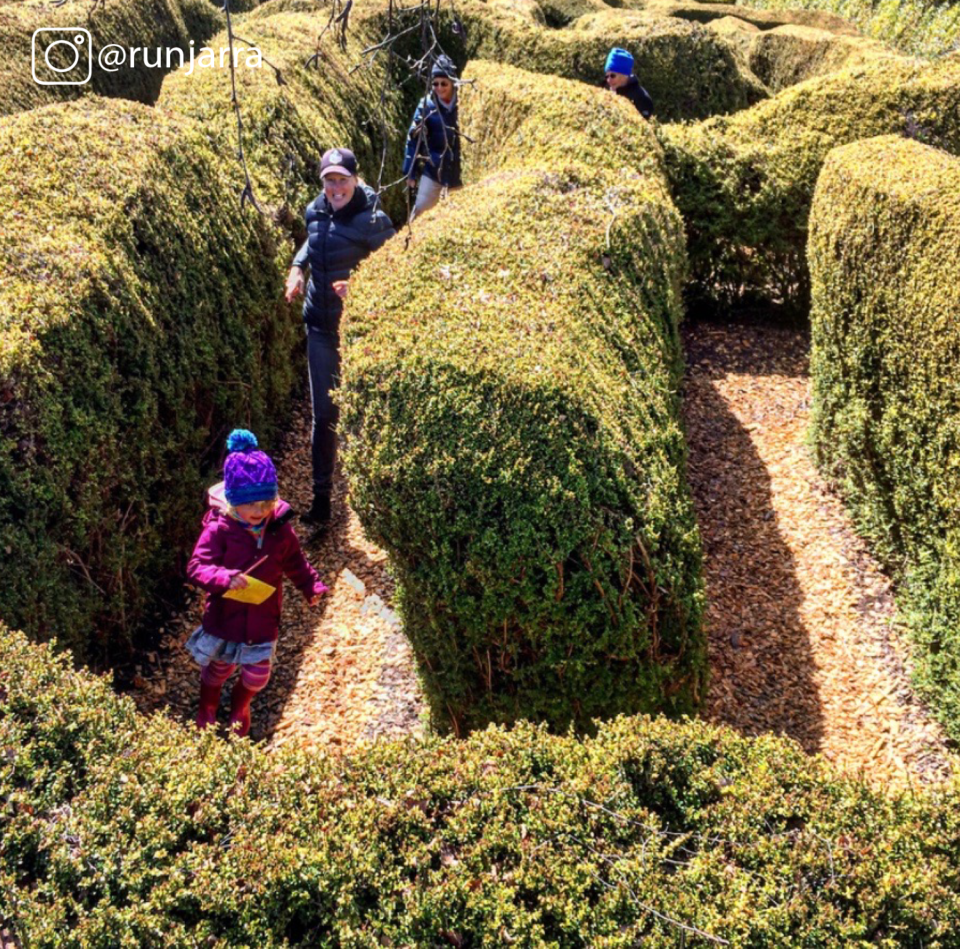 Images: Cradle Mountain and Tasmazia
Cradle Mountain
Famous for its cradle-shaped mountain peak, the Cradle Mountain-Lake St Claire National Park and World Heritage Area offers spectacular and isolated wilderness experiences that the whole family will cherish for years to come.

As one of our top five Tassie destinations, Cradle Mountain is stunning in every way. Our kids love being here no matter what time of year. We have done rain, hail, snow and blazing sunshine. Newborns, toddlers, primary school-aged and teens. We have loads of fun. Every time.
As soon as you arrive, you will need to head to the Visitor Centre and purchase a parks pass to allow access into the Park beyond the boom gate. Then, head to the interpretation centre opposite Peppers Lodge and have a look at their 3D plan of the park. This is outside of the boom gate so you can drive and park your car here. As a family, you can decide here what activities to do and what you will need to take for each one. After that, you are good to go!
Towns 4 Kids in Cradle Country
Whilst this is not every town or small area within Cradle Country, you'll find these places easily on a travel map. Sheffield and Railton are the largest towns with the most major services available.
Cradle Valley (National Park area)
Wilmot
Paradise
Mole Creek
Moina
Nowhere Else
Sheffield
Railton
Gowrie Park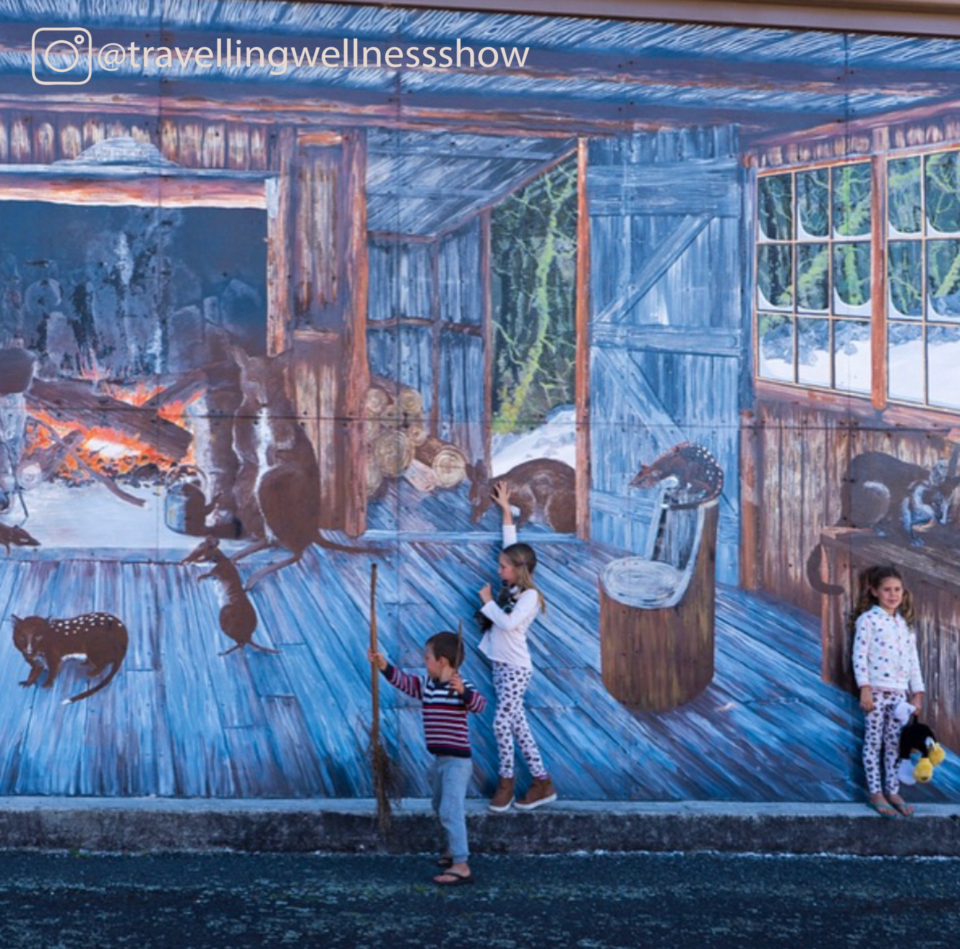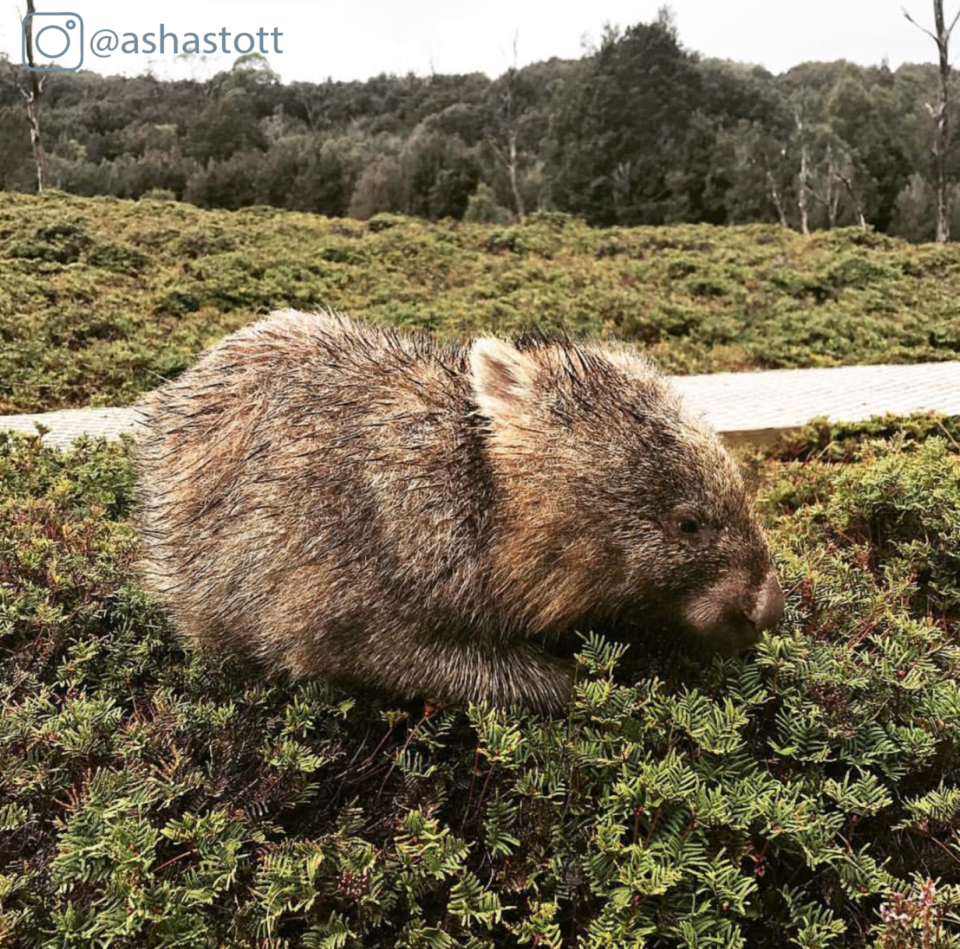 Images: Sheffield Murals and a wombat at Cradle Mountain
Accommodation
You can choose to stay in the outer areas of Cradle Country such as Sheffield with its amazing views under the mountain, but the closer you are to Cradle Valley the easier it will be with kids. All the activities at Cradle Mountain involve walking, so it's a given they will be wrecked and most often a little ratty at the end of the day. The less distance to travel to your accommodation can sometimes be a life saver!
We have stayed in almost every property within Cradle Mountain. From luxury to Caravan Park; there is something for every family size, need and budget. Keep in mind that summer times tend to be booked out well in advance, so plan to book well ahead if you can.
Expect to pay anything from $150- $600+ a night at Cradle Mountain, dependent on season and type of accommodation. Some of the bigger properties have onsite restaurants and cafes, that offer self-contained amenities. No matter where you stay, we recommend bringing in some milk, bread and basic necessities. Whilst you can shop at the general store centre it is rather expensive and limited.
Camping
Kentish Park and Wilmot foreshore have boat ramps, pontoons and free camping areas. Kentish Park is the primary camping area with toilets and shelter. Wilmot does not and therefore campers must be self-contained.
Gowrie Park offers a spot next to O'Neill's Creek Picnic Reserve and rodeo ground; a forest reserve suitable for short stays (3 nights maximum), making it a perfect overnight stop on your way to Cradle Mountain Lake St Clair National Park. The camping ground includes a toilet block, concrete pads for caravans, grassy tent areas, bbq facilities and a shelter with tables

You will not find any campsites within Cradle Mountain other than at the Discovery Caravan Park. Camping is not permitted within the National Park unless you are participating in an overnight walk in which you will be required to pay the park fee and register at the Cradle Mountain Visitor Information Centre.
The weather can be very unpredictable the closer the Cradle Mountain. With young kids, we don't recommend camping, rather we encourage you to book a standard cabin if you are on a really tight budget or visit for the day.
Walks
There are a number of walks within the Cradle Mountain area. Details below are compliments of the Tasmanian Parks and Wildlife 60 Great Short Walks.
Dove Lake Circuit walk.
Takes approx 2 hours and is not suitable for toddlers. This is our favourite family half-day walk. It provides the best examples of alpine fauna, our endemic rainforest species and it goes right under Cradle Mountain itself. There are a couple of steep and uneven parts, but relatively easy for fit and capable primary school-aged kids and above.
The Boatshed.
At the beginning of the Dove Lake Circuit, and about a 10-minute walk, the Boat Shed is one of the Cradles' most photographed locations. With the mountain in the background and a little beach to ponder on, the whole family will get something out of this walk. It includes a few steep areas and uneven parts, but we managed with our toddlers taking it slow. It wore them out so it was an extra winner for us!
Glacier Rock.
Located on the edge of Dove Lake, this giant rock showcases the effect of the last ice age 10,000 years ago. Kids will gain an educational experience as they discover the giant claw-like scratches over and down the rock face, caused by melting glaciers.
The Enchanted Walk.
This walk is fantastic and one of our favourites for many reasons. It's easily accessible; commencing at the Peppers Cradle Mountain Lodge so you can drive and park, and at no more than 50 meters is the start. It's boardwalk the whole way which is perfect for little feet! The Enchanted Walk takes around 20 minutes to complete, comfortably. You could take longer or do it in around 15 minutes if you rushed (1.1km) From a child's perspective, it is quite magical, 'Enchanted'!
Weindorfers Forest Walk.
You can park here, or the shuttle will take you in. If your budget so inclines, there are cabins in which you can stay at. This walk is quite special to us as it was the first place we took our son when he was very tiny. Before you do the walk, let the kids explore the chalet and learn what life at Cradle Mountain would have been like 80 years ago, compared to the comforts of what we as visitors have today! There is a back door that leads to a small bridge near the start of the walk, which follows an easy grade through a forest of King Billy pines, Celery-Top pines and Myrtles. The walk takes about 20 minutes for little legs. At the end of the walk is a hut which in winter normally has a fire going and is open to the public. You can look down at the beginning of the Overland Track here, and get some great photos. Great place to regroup the kids!
Crater Lake Circuit
This track is at a lower altitude than many other tracks in the Cradle Mountain area. It's a better option for days when the higher altitude tracks are being lashed by cold winds and heavy rain. Crater Lake itself, despite its name, is not a crater. It was formed by the action of ice during previous ice ages. In autumn, the steep slopes that surround this beautiful lake are ablaze with the glorious colours of fagus. The dark colour of the water, like so many lakes and streams throughout western Tasmania, is the result of tannins leached from buttongrass and tea tree vegetation. 2-hour circuit. Supervise children, tracks are subject to severe weather conditions all year round, the weather may change quickly, tracks are difficult to navigate when covered in snow and may be impassable.

O'Neill's Creek Nature Trail
Located at Gowrie Park, not long after Sheffield on the way to Cradle Mountain is an easy 15-minute walk, approximately 700 metres to O'Neill's Road, and leads to the start of the Mt Roland Regional Reserve walking tracks. Spectacular Mt Roland forms the backdrop to the Mt Roland Regional Reserve east of O'Neill's Creek Picnic Reserve. You will find fern glades, tree ferns, white gum eucalyptus, brown top stringybarks, Blackwood, myrtle, sassafras and dogwood trees. O'Neill's Creek is also host to the iridescent dragonfly, frogs, yabbies, freshwater crayfish and platypus. There is logging evidence from a bygone era. You may encounter tree stumps with notches cut out of them for holding boards that were used for axemen or sawyers to stand on whilst felling trees. Bullock teams or draught horses were used to skid out the logs.



Eating Out
The bigger towns of Railton, Sheffield and even Mole Creek offer a variety of places to eat, including cafes. Sheffield is the biggest with a range of restaurants and cafes. Mole Creek is very seasonal, Tasmazia not far out of Barrington has an onsite cafe and Moina's Cradle Forest Inn offers simple but hearty meals, on route to the National Park.
Cradle Mountain has four main restaurants suitable for families:
Cradle Mountain Hotel - Altitude Restaurant and Altitude Lounge Bar (snacks).
Wilderness Village - Hellyers Restaurant
Cradle Mountain Lodge - Highland Restaurant, Tavern Bar and Bistro
There is a general store and the Visitor Center Cafe have takeaway foods. We suggest bringing food for breakfast and lunch, and perhaps splurging on dinner at a restaurant one night during your stay.
Activities
Here are our top Cradle Mountain activities:
Devils@Cradle.
One of Tassie's best closeup experiences with a Tasmanian Devil, and not far from the visitor centre, Devils@Cradle offers visitors entry to their unique Tasmanian Devil and Eastern and Spotted Quoll enclosures. They run day and night time feeding sessions as well as educational sessions where you can actually touch a devil!
Mural Park, Sheffield
The venue for International Mural Fest each year, for the rest of the year this park houses the nine finalists from the previous year's Mural fest competition, plus the International Wall of Fame that presents the winning murals of past years, and the celebrity mural wall featuring murals painted by international celebrities.
The Kentish Museum, Sheffield
The Kentish Museum displays include everyday house and farm items back to the 1800s. The world's first coin-operated petrol pump; significant artefacts such as the Weindorfer collection and a Boer War canon, to name a few. The collection is 99.9% from the Kentish district. Hours: Mon-Wed 10am-12pm & 1-4pm; Tues 1-3pm; Thurs 10am-12pm & 1-3pm; Fri 10am-3pm.
Tasmazia
Tasmazia is Tasmania's premier family attraction comprising 8 mazes (the world's largest maze complex), the whimsical miniature Village of Lower Crackpot built to 1/5 scale, Embassy Gardens with buildings dedicated to more than 40 countries,
Railton - The Town of Topiary
The 'Town of Topiary', located between Latrobe and Sheffield, maintains over 100 imaginative topiary characters along the main street. In 'Cradle Mountain National Paddock' visitors can photograph the only `living' Thylacine, most commonly known as the Tasmanian Tiger. The town was built on the back of its high-quality limestone cement, which was used to build the Sydney Harbour Bridge, much of early Melbourne, and many of the great construction projects around Australia.
Novelty Letterbox Trail.
About 80 letterboxes stretched over 25km from Gentle Annie Hill to Moina include such bizarre construction as a bomb, a skeleton on a bicycle, cows, cars, motorcycles, planes, a whisky still and book-ended by a Dalek at the northern entrance of the trail, and the Tardis at the southern end.
Wilderness Gallery, Cradle Mountain
This gallery features hundreds of Tasmanian, interstate and international artworks. A key highlight for the whole family is the Thylacine exhibition; featuring rugs, books, and more. There are also a number of interactive exhibitions, which everyone will enjoy.
Playgrounds
Cradle Mountain is your playground!
Check out Playground Finder or download their APP for a list of spots which includes a location map, details if there are toilets, BBQs, if it's fenced, has shade, car parking or is near any other kid-friendly activities.

Goliath Park, Ennis Avenue, Railton

What you should know
WiFi/Mobile Reception
Reception is relativity good around this area if you are close to Sheffield, Railton or Cradle Mountain. Getting to Cradle Valley from neighbouring regions will provide poor reception as well.
Telstra is the only network provider within the National Park, which is generally pretty good outside of the boom gate area, but very limited inside around Dove Lake and beyond.
Petrol Stations
You can purchase petrol at:
Sheffield
Railton
Cradle Mountain
Mole Creek
ATMs
You will find major banks and ATMs at Sheffield and Railton, with only local hotels and cafes in between offering neighbouring purchases.
A Redi-Teller is available at the Cradle Mountain village shop. All accommodation properties also have Eftpos.
Public Toilets
The Australian Government has a fantastic website called The National Public Toilet Map. All you have to do is type in your location and it provides a map, address, facilities available and open times. Save it to your safari browser on your mobile. Right now.
It's important to note that there are very few toilet stops in this region. It pays to have a roll of toilet paper in your car and a zip lock bag for the kids if you have to stop along the way and go in the bush. Place all used toilet paper and sanitary items into the bags and dispose of them once you reach a rubbish bin.
You will find public toilets at:
Railton
Sheffield
Gowrie Park
Mole Creek
Mole Creek Caves
Mersey River
Barrington
Cradle Mountain: the Visitor Centre, the Interpretation Centre and the Dove Lake Car Park.
Feeding/Changing Facilities
Very limited. All restaurants offer toilets, some with change tables.
The Australian Breastfeeding Association has compiled a list of Babycare rooms around the state. They have none listed for this region.

Travel
If you don't have your own vehicle you can still get to Cradle Mountain with Tassielink; buses come via Burnie and Devonport, stopping at all main towns along the way. Phone 1300 300 520

Cradle Mountain is great for public transport! There are shuttle buses that run approx every 15 minutes from the visitor centre, 2km to the Dove Lake Car park inside the National Park boom gate. We recommend using this bus, the kids will love it and you are guaranteed to get into Dove Lake.
If there are too many cars within the actual park area the boom gate will not open and you will have to catch the shuttle bus. It pays to book the bus, to begin with, and you won't have to worry about parking as that too, can be an issue in summer. We learnt the hard way. Buses run from 8:30am - 4:30pm.
Travel Times
To get to Cradle Mountain from:
Burnie to Cradle Mountain
100 km (1 hour 15 min) via the Murchison Highway from upper Burnie. Follow this all the way until you reach the junction for the Cradle Link Road.
Devonport to Cradle Mountain
85 km (1 hour 15 min), via Wilmot
Hobart to Cradle Mountain

320 km (4 hours)via the Midland Highway to Longford and across to Sheffield and onto Gowrie Park, and join the Cradle Link Road
Launceston to Cradle Mountain
140 km (1 hour 50 min) via Railton, Sheffield and Gowrie Park onto the Cradle Link Road.
Strahan to Cradle Mountain
138 km (1 hour 50 min), via Zeehan, Roseberry and Tulla and onto the Cradle Link Road.
RV Dump Points
Caravan Parks Tasmania has compiled a list of recommended green, environmentally friendly locations in order to protect Tasmania's environment.
For Cradle Mountain and nearby areas, they have listed the following:
Cradle Mountain Information Centre
Sheffield Recreation Ground
Should this information be incorrect, or you simply have a new suggestion, please email us at enquiries@tassie4kids.com.